Vac-Con® Cuts through Tough Excavating Problems without Cutting Through Wires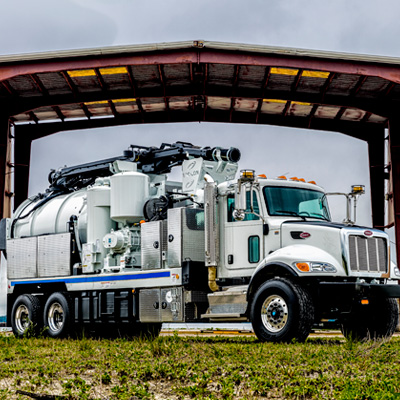 Our high power and high efficiency Hydro-Excavation trucks make even the toughest excavating jobs easy and safe. Designed to power through all kinds of difficult terrain including frozen or unfrozen ground, Vac-Con® Hydro-Excavators deliver More Power to You®.
These non-destructive hydraulic excavating machines use pressurized water and a vacuum system to dig precisely and make visual identification of existing underground utilities like gas lines, fiber optics, T-1's, etc., so they can be easily avoided. Our Hydro-Excavating machines reduce the time on job by eliminating delays caused by cutting unexpected wires or cables, and it is much safer than mechanical excavation methods.
Vac-Con®'s Hydro-Excavators gives you the power for safe, nondestructive digging for municipalities, utility companies, and contractors.
The X-Cavator™
We designed the X-Cavator™ specifically for handling the toughest and most challenging excavating jobs. Based on our combo machine model, the X-Cavator™ is powerful, durable, and easy to operate. In addition, like any Vac-Con® machine, it is fully loaded with standard features and the industries best safety features.
XX-CAVATOR™
Vac-Con's XX-Cavator™ is simply a beast on any project, but is forgiving and kind to the one operating and maintaining it. Able to withstand extreme climates and temperatures, the XX-Cavator™ is a constant worker. Special insulation and re-circulation features insure freedom from lock ups and with the measured fuel savings of 50 liters per day, the cost of doing the job goes down, while productivity goes up.
The All New Recycler
The much-anticipated Vac•Con® Recycler is here, and it is worth the wait! Designed from proven European technology and the durability to keep you on the job working longer, the Vac-Con Recycler has already made its mark on the industry.
2-Stage Water Filtration
Stainless Steel 1st-Stage Filter for Removal of Large Particulate
Self-Cleaning, Stainless Steel 2nd-Stage Filter
High-Pressure Back-Flush Assembly (2,000 PSI)
Wear-Resistant Wiper Cleaning